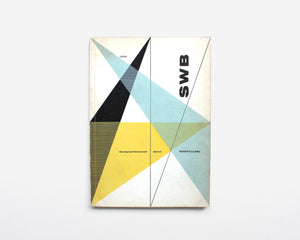 SWB Ausstellung der Ortsgruppe Zürich des Schweizerischen Werkbundes, 1950. Kunstgewerbemuseum Zürich, Switzerland. 6 x 8.25, pp. 50 with German text. Cover design by Hans Neuburg (1904-1983). Interior layout by Karl Sternbauer. Printed in Switzerland.
Published in conjunction with the exhibition devoted to Switzerland's Zurich branch of the Swiss Werkbund (SWB), the association of artists, architects, designers, founded in 1913 dedicated to advancing the principles of "Die gute Form" (Good Design). This exhibition was held at the Kunstgewerbemuseum from June 3 to August 20, 1950.
Includes an Acknowledgment by Emil Landolt, the Zurich mayor; Introduction about the SWB by Johannes Itten, the museum's director, and several contributions about the exhibition, industrial products, the study of chairs and arts and crafts by: Ernst Gisel, Ernst F. Burckhardt, Max Ernst Haefeli, Willy Gruhl and Willy Rotzler. Hans Neuburg's contribution "Grafik nach SWB-Norm" calls for a rigorous design style without ornamentation — in the same spirit of industrial design, modern architecture and concrete art. See Felix Wiedler, Book Design Stories
With an list of exhibitors and images; well illustrated with (50) black and white examples of furniture, interiors, textiles, architecture, logos and more from Max Bill, Willy and Emil Guhl, Warja Honegger-Lavater, Carlo Vivarelli and others. Photos by Hans Finsler, Hugo P. Herdeg, Werner Bischof, Ernst A. Heiniger, Alfred Willimann and others.
A very good lightly handled softcover with gently soiled white covers and ZURICH SWB written in black marker on the spine. Uncommon.