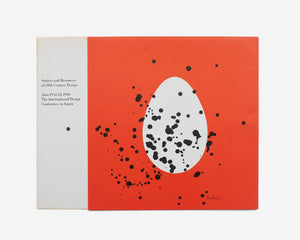 Sources and Resources of 20th Century Design, The International Design Conference in Aspen, 1966. IDCA, Aspen, Colorado, USA. Folded once asymmetrically, 10.75 x 8.25. Typography and design by Paul Rand. Signed in plate "Paul Rand" in the lower-right corner.
An uncommon, striking announcement (also designed as a poster) for the Sources and Resources of 20th Century Design, International Design Conference in Aspen held on June 19—24, 1966. The interior features introductory text and short profiles of twelve speakers and panelist including: Reyner Banham, Julian Beinart, Henry Dreyfuss, Charles Eames, Gyorgy Kepes, Leo Lionni, Douglas MacAgy, Tomas Maldonado, John Peter, Kevin Roche, Ben Shahn and Henry Wolf. With a list of the 1966 Board of Directors and Reservations information including a single-sided, laid-in Invoice (Reservations) form.
Rand's excellent design solution integrates form and content and supports the conference theme which deals with education. "The visual statement, that seeks to express the essence of an idea, and that is based on function, fantasy, and analytical judgement, is likely to be not only unique but meaningful and memorable as well." (Paul Rand, A Designer's Art, p. 48)
A conference announcement in near fine condition with light wear and toning along the outside left-hand margins and right side fold; a well-preserved, still bright copy with the bright red wrapping around to the reverse side of the announcement. Would look lovely framed.