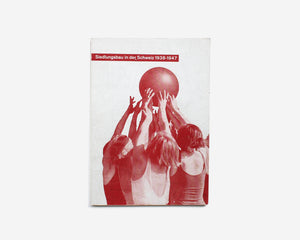 Siedlungsbau in der Schweiz 1938–1947, 1948. Kunstgewerbemuseum Zürich, Switzerland. 6 x 8.25, pp. 44 with German text. Cover design by Richard Paul Lohse. Typesetting and printing at Kunstgewerbeschule, Zürich.
Published in conjunction with the exhibition of the same name devoted to Switzerland's new focus on modern housing developments, held at the Kunstgewerbemuseum from September 12 to October 10, 1948. With a preface by Johannes Itten, the museum's director, several exhibition texts (some by Swiss architects Paul Artaria and Karl Egender), an exhibition list and eight pages of black and white photographs and architectural drawings. Exhibition design by Alfred Altherr, the celebrated modern Swiss designer, architect and museum director.
Lohse's excellent photomontage design, free of formal rigidity, combines cartographic contour lines and a photograph of children playing to symbolically represent the developed landscape, industrial production and communal building (not competition) in small villages.
A nearly fine softcover exhibition catalog with faint green cartographic lines. Uncommon.