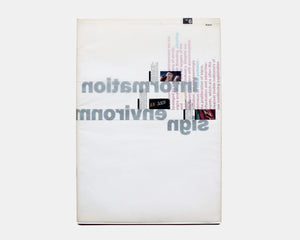 Octavo 88.6, International Journal of Typography edited by Simon Johnston, Mark Holt, Michael Burke and Hamish Muir, 1989. Eight Five Zero Publishing (8vo), London, UK. 11.75 x 8.25, pp. 16 with English text.
Designed, published and self-financed in an edition of 3,000 copies as an eight issue series between 1986 and 1992. Distinct and influential, "Octavo arose from a genuine desire to develop a forum for matters related to typographic design, both historical and contemporary. And it was an opportunity to be openly critical of the complete absence of any European sensibility in British typography." (8vo: On the Outside, Lars Müller, 2005).
Issue 6 features: Signs of Revolution (Martin Pawley), Printed Time (Barry Kitts) and Highway Codes (Neil Parker). This issue was the first to be printed using a four-color process.
Very good with light wear to cover and interior — includes the original, vellum printed wrapper.