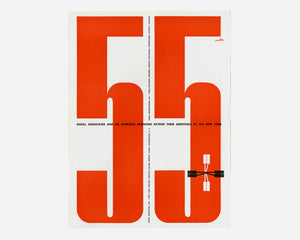 Knoll 55: Knoll Associates and its Overseas Branches Extend their Greetings at the New Year, 1955. Knoll Associates, Inc., New York, USA. 9 x 12, advertising proof, single-sided and signed in plate "matter" in the top-right corner.
A striking, original design from Swiss émigré and modernist graphic designer and photographer, Herbert Matter. For over 20 years, Matter worked with Knoll designing everything from logos to catalogs, posters to exhibitions and more. The highly stylized, bold "55", perhaps hand-lettered is reminiscent of his iconic Knoll trademark as well as the numerals he used on his Arts & Architecture covers from January 1945 and January 1946.
The original, oversized advertising proof is printed recto only and has NOT been removed from a magazine — would look lovely framed. A rare, nearly fine example with only a hint of wear.