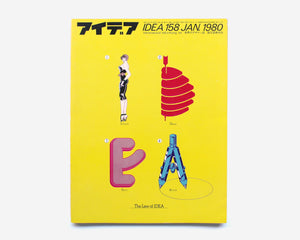 IDEA, International Advertising Art edited by Noboru Sakamoto, Vol. 28, No. 158, January 1980. Seibundo Shinkosha Publishing Co., Tokyo, Japan. 8.875 x 11.75, pp. 128 plus trade advertising. Japanese and English text. Cover design by Kenzo Nakagawa Network.
Published since 1953, IDEA is a bi–monthly magazine dedicated to international advertising art, illustration, graphic design and typography. Heavily illustrated throughout in black and white and color and packed with excellent and uncommon Japanese and international content.
Featuring: 1979 Annual of Advertising Art in Japan by Kazumasa Nagai; Fernando Medina by Takenobu Igarashi; Design Forum '79 by Kazumasa Nagai; Design Works by Yukio Kanise; The 3rd Lahti (Finland) Poster Biennale by Takenobu Igarashi; Japanese Poster Exhibition by Shinichi Segi; Kröller-Müller National Museum House Style by Pieter Brattinga Jr.; The 29th International Design Conference in Aspen Interviews by Midori Imatake: Louis Dorfsman and Saul Bass; Type Directors Club 25th Annual Exhibition; Visual Design Art of 64th Nika Exhibition and Here & There (industry news, etc.).
A very good, vintage magazine with light wear. Uncommon in the United States.