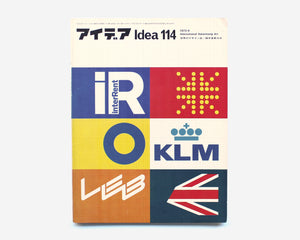 IDEA, International Advertising Art edited by Noboru Sakamoto, Vol. 20, No. 114, September 1972. Seibundo Shinkosha Publishing Co., Tokyo, Japan. 8.875 x 11.75, pp. 132 with trade advertising. Japanese and English text. Art Director: Hiroshi Ohchi. Cover design by FHK Henrion.
Published since 1953, IDEA is a bi–monthly magazine dedicated to international advertising art, illustration, graphic design and typography. Heavily illustrated throughout in black and white and color and packed with excellent and uncommon Japanese and international content.
Featuring: Henrion Design Associates London – Design Systems for International Corporations; Explosive German Illustrator: The Osterwalders; DPZ's (Brazil) Activities in Graphic Arts; "My Best Work" a show of 81 artists, held in New York; Elements of Idea: Illustration of Mechanisms by Shigeo Fukuda; Environment Design by Robert P. Gersin; Assemblages and Collages of Hans Haderek; Milton Glaser answers questions by Japanese designers; Tadanori Yokoo's show at the Museum of Modern Art New York by Milton Glaser; H & K Exhibition by Mr. and Mrs. Miyaki; Bijutsu-Bunka Exhibition; and Here & There (industry news, etc.).
A very good, vintage magazine with light wear and a bump to the upper corner. The first few advertising pages are tightly bound and one double-page spread is detached but still included. Uncommon in the United States.