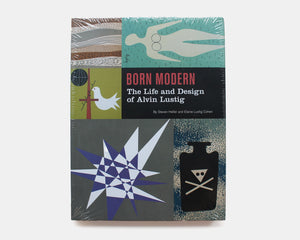 Born Modern: The Life and Design of Alvin Lustig by Steven Heller and Elaine Lustig Cohen, 2010. Chronicle Books, USA. 9.25 x 12.25, pp. 208. Designed by Tamar Cohen.
From the back cover: Despite Alvin Lustig's untimely death at the age of forty, Lustig had a significant influence on student and professional designers, particularly in graphic design, advertising, interior, and furniture design. In the early 1950s, at the peak of his career, he was at the forefront of the design revolution, participating both in the rise of California modernism and as a proponent of the "good design is good business" motto radiating out of New York.

This first, in-depth monograph shares the totality of Alvin Lustig's vision and philosophies, from his groundbreaking book jacket design for New Directions Publishing to his forward-thinking approach to design education as explored at Black Mountain College and later at Yale University.
A fine, brand new hardcover, still in the original publisher's shrink wrap.