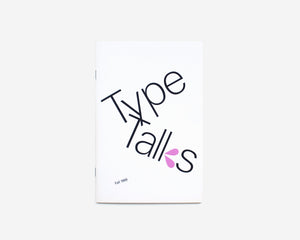 Type Talks edited by David Pankow. Fall 1989, New Series, Volume 1, No. 1. Advertising Typographers Association of America, Inc., USA. 6 x 9, pp. 28 with a playfully designed cover and interior layout by Paul Rand — "By mixing classical and modern typefaces, Rand demonstrates that good design is both universal and timeless—depending not on style, but on quality."
Published in the interests of better graphic communications ..., the first Type Talks appeared in September 1945 with over one hundred issues produced. After a hiatus for some years, it resumed publication with this issue. Text includes: letter from the ATA President, a six page interview with Paul Rand by Mario Rampone of Pastore DePamphilis Rampone; Rand's go-to printer, The Changing Face of Garamond, Initial Letters and Typography Tomorrow by Ed Cleary of Cooper & Beatty, Toronoto, Canada.
A fine, stapled booklet and uncommon Paul Rand design.