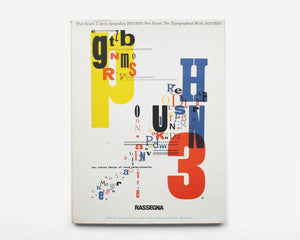 30 Rassegna. Piet Zwart: The Typographical Work 1923–1933 [Piet Zwart: L'opera tipografica 1923–1933], by Bruno Monguzzi and Vittorio Gregotti, Rassegna's Director, 1987. Editrice C.I.P.I.A., Bologna, Italy. 9 x 12, pp. 88 with Italian text and English captions. A printed copy of the English Preface by the magazine's editor, Pieluigi Cerri and Monguzzi's English translation by Sharon Krengel will be included. Designed by Bruno Monguzzi.
A generous collection of Piet Zwart's typographical work from 1923–1933; which coincides with his extraordinary output for NKF. Heavily illustrated throughout with more than (225) color and black and white commercial works and photographs. Bruno Monguzzi's substantial essay focusing on Zwart's graphic design and typography is the best we've ever read. Some of his research used rarely published letters and other primary materials from the archive of Zwart's wife, Nel Zwart-Cleyndert and includes many quotations and (100) footnotes. The Bibliography includes: a list of Writings by and about Zwart.
The illustrated cover shows Zwart's single page design from an unpublished specimen catalog for the Hague Trio Printing Office, c. 1931 — it features a variety of traditional and modern typefaces and sizes and only one readable line: "A small selection from our type collection."
A very good plus softcover journal and printed dust jacket with only light handling and a gently bumped lower corner. Highly recommended!