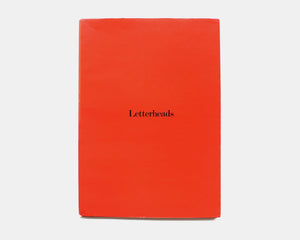 Letterheads: A selection of letterheads designed by Pentagram by Pentagram Design (London: Crosby, Fletcher, Grange, Hillman, Kurlansky, McConnell and New York: Forbes, Harrison), c. 1970s. Pentagram Designs Limited, London, UK. 8.25 x 11.75, n.p.
This promotional book given to the trade and/or prospective clients includes (36) individual, full-page, mostly color letterheads designed by Pentagram. Printed on a variety of papers for both well-known and uncommon clients mostly from the United Kingdom with only a few from Switzerland and U.S.A. These include but not limited to: Reuters, Watneys London, Theo Crosby, The Design Council, Goods & Chattels Limited, Buro Happold, Prestel, Society of Industrial Artists and Designers, The Stravinsky Festival, Faber and Faber Publishers and much more.
A fine softcover book with only a slight hint of wear to the edges of the bright orange printed wrappers. Increasingly uncommon.