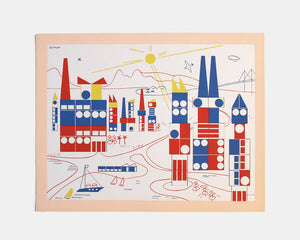 Build the Town by Ladislav Sutnar, 1943. Self-published, USA. 8.5 x 11, single-sided, silkscreen print, signed in stone "Sutnar" in the top-left corner.
This silkscreen print is 1 of only 2 promotional items (the other is a blue variation) published for the Build the Town building block set Sutnar designed between 1941 and 1943 while living in New York City.
The celebrated toy set was designed to inspire creativity and imagination among children. Sutnar utilized simple wooden forms, geometric shapes, painted patterns and primary constructivist colors (red, blue yellow) to represent the 20th century modern metropolis. Unfortunately, due to financial circumstances and wartime, Build the Town was never mass produced. Would look lovely framed!
A fine, uncirculated original print by Ladislav Sutnar. This rare silkscreen is included in the collection at the Museum of Modern Art, New York (Object No. 425.2009.2).