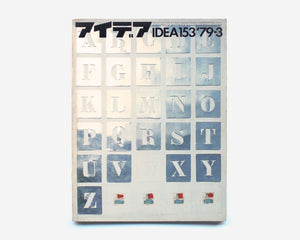 IDEA, International Advertising Art edited by Noboru Sakamoto, Vol. 27, No. 153, March 1979. Seibundo Shinkosha Publishing Co., Tokyo, Japan. 8.875 x 11.75, pp. 130 plus trade advertising. Japanese and English text. Cover design by Ryuichi Yamashiro.
Published since 1953, IDEA is a bi–monthly magazine dedicated to international advertising art, illustration, graphic design and typography. Heavily illustrated throughout in black and white and color and packed with excellent and uncommon Japanese and international content.
Featuring: The 24th Annual Type Directors Club Exhibition by Takenobu Igarashi, Roy Zucca and Minoru Morita; Mark Treib: Graphic Design for University (UCB); Toni Eichenberg; Malcolm Fowler & Nancy Lee Fouts of Shirt Sleeve Studio; Package and Corporate Design for SUMMIT Supermarket by Takenobu Igarashi Design; Hans Peter Hoch; Perspective Eyes from a 1979 Calendar; The 13th SPD Awards and the 1978 Andy Awards; Designers Stewart and Winner (Louisville, Kentucky); The 20 Years of the Society of Illustrators' Award Winners Exhibition; Ian Broughton: A London Designer in Hong Kong and Africa and Here & There (industry news, etc.).
A very good, vintage magazine with light wear. Uncommon in the United States.