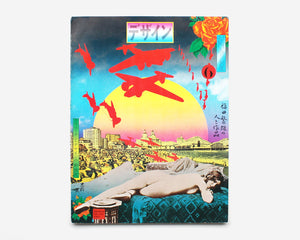 Design: A Monthly Review for the Integration of Every Field of Design edited by Takahiko Okada, No. 110, 1968. Bijutsu Shuppan Sha, Tokyo, Japan. 8.75 x 11.50, pp. 100 including trade advertising with Japanese text only. Cover designed by Tadanori Yokoo.
Heavily illustrated in black and white with a variety of graphic and industrial design related content including: a twelve-page feature article on Shigeo Fukuda: His Works and Personality by Takahiko Okada. Other content devoted to: Matsushita electric radio design; a report from Italy's Compasso d'Oro 1967; a detailed article on Swedish design; the history of Japanese advertising art; modern design education at the Bauhaus; the American woodworker George Nakashima, a poster exhibition, book reviews and more.
Tadanori Yokoo's unique, collage-like cover design makes use of a brilliant color palette with inventive printing techniques and cultural Japanese and popular images juxtaposed against one another in an unconventional manner. For more on Yokoo, read the excellent Letterform Archive From the Collection: Tadanori Yokoo.
A very good plus magazine with light wear to the front cover and corners. Uncommon in the United States.