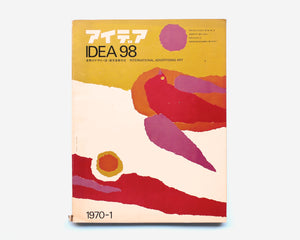 IDEA, International Advertising Art edited by Noboru Sakamoto, Vol. 18, No. 98, January 1970. Seibundo Shinkosha Publishing Co., Tokyo, Japan. 8.875 x 11.75, pp. 121 with trade advertising. Japanese and English text. Art direction by Hiroshi Ohchi. Cover design by Kenneth F. Jung.
Published since 1953, IDEA is a bi–monthly magazine dedicated to international advertising art, illustration, graphic design and typography. Heavily illustrated throughout in black and white and color and packed with excellent and uncommon Japanese and international content.
Featuring: N. W. Ayer & Son; John Alcorn by Lou Dorfsman; Hawaii Art Directors Club (Toni Goldmark, Clemente Lagundimao Jr., Kenneth F. Jung, Clarence Lee, Bruce Hopper, Tom Lee, Pegge Hopper, Wallace Uyehara); Experiments with Posters by Gunter + Gerhard Lienemeyer; Unique Creativity of John Rombola; Mark English; 1969 Good Design, Global Eye Exhibition; Anthon Beeke and Swip Stolk; Taiji Harada by Hiroshi Ochi; The Erotic Postcard and Here & There (industry news, etc.).
A very good, vintage magazine with light handling throughout. Front cover starting to pull, a chip to the lower spine and a small illustration cut-out on one page. An important magazine and uncommon in the United States.